Film Review with Robert Mann – Marmaduke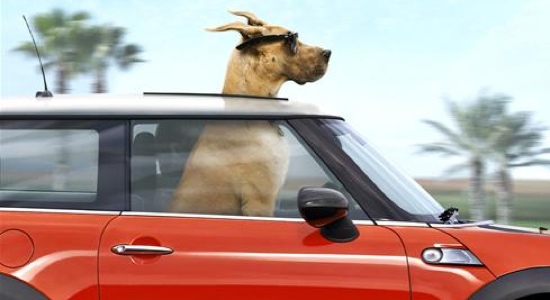 Marmaduke **½

From the studio that brought you both Garfield and Alvin and the Chipmunks comes the latest live action talking animal movie based on a beloved creation from the past – Marmaduke. Who is Marmaduke, you're wondering? Well, in case you're not familiar with the adventures of loveable Great Dane, Marmaduke is a newspaper comic strip that was created in 1954 by Brad Anderson and Phil Leeming and is still going today, running in 600 newspapers worldwide. Just as with those other aforementioned creations, there is a great amount of affection out there for the source material and clearly a lot of effort has been put into this film, with a lot of big names contributing their voices to canine (and, in one case, feline) characters here. Is the film truly worthy of such talent though? The answer to this probably depends on your age and if you are the right age to fully appreciate the film you likely won't care about the voice cast anyway.
Clumsy but lovable Great Dane Marmaduke (voiced by Owen Wilson) is about to have his world turned upside down. Marmaduke enjoys his simple life causing unintentional chaos in the Kansas home of the Winslow family – Phil (Lee Pace), Debbie (Judy Greer), Barbara (Caroline Sunshine) and Brian (Finley Jacobsen). When owner Phil lands a marketing job with an organic pet food company in California working for the dog obsessed Don Twombly (William H. Macy), 'the Duke' finds himself being air freighted to Orange Country. Desperate to fit in with the cool local pooches, Marmaduke fakes a fight with his feline friend Carlos (voiced by George Lopez). But disaster strikes when he uses his newfound fame to flirt with Jezebel (voiced by Fergie), the girlfriend of pedigree bully Bosco (voiced by Kiefer Sutherland). Soon exposed as a fraud, Marmaduke finds himself frozen out of the Californian doggy scene while, at home, Phil's work-obsessed behaviour threatens to pull the Winslows apart. Can hapless Marmaduke redeem himself and save the day?
It is reasonable to say that kids will find plenty to enjoy in Marmaduke. The humour is perfectly aimed at younger viewers, often being puerile or juvenile but never crude or inappropriate and among the numerous fart gags, scenes of cats being flung through the air, dogs knocking people to the ground, dogs surfing, dogs dancing and dogs partying California style there are some genuinely funny moments that raise more than a few giggles, perhaps for adults as well as children. That said, though, this is not a film that is a laugh a minute and there aren't many gags that are likely to generate any really big laughs for anyone but the youngest of viewers. Additionally, this is a film which really wastes the talent it has at its disposal. The impressive voice cast – including, in addition to those aforementioned, Emma Stone, Christopher Mintz-Plasse, Steve Coogan, Marlon Wayans, Damon Wayans Jr. and Sam Elliott – is good but doesn't really contribute all that much given that it is hard to actually recognise many of them, only Owen Wilson really standing out, his voice perfectly bringing the character of Marmaduke to life. As for the actors we actually see, there is even more talent wastage. It's not that any of the cast members are bad but there is really isn't a whole lot for them to actually do either. Pushing Daisies star Lee Pace is really capable of so much more than what is on display here and the other cast members fare no better, the likes of William H. Macy and Judy Greer also being wasted in roles that require little of them. Also, a very short cameo appearance by David Walliams just seems weird and pointless. On top of this, the plot is predictable, the dog park=high school scenario equally as obvious and the CG animation occasionally proves rather shoddy. Of course, kids won't care about any of this and will probably love every minute of it. Parents probably not so much but look on the bright side – it isn't particularly annoying and it is certainly watchable, just not memorable.
---
---
—————————————————————————————————————————————
Review by Robert Mann BA (Hons)




---
We hope you're enjoying BRWC. You should check us out on our social channels, subscribe to our newsletter, and tell your friends. BRWC is short for battleroyalewithcheese.
---
Trending on BRWC:
---
Cool Posts From Around the Web:

---

---