Just The Snicket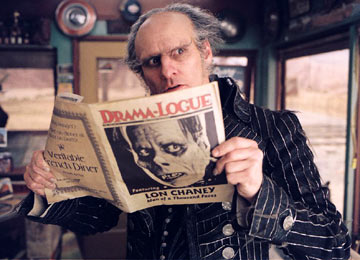 Well, Harry Potter and the Half-Blood Prince is out there now and it's made all the money in the world over its opening weekend, and we've got the happy treat of the final movie being released as two movies before the whole sorry saga can be put to bed and the good actors in the cast can stop slumming it and the child actors can begin appearing in 'Where Are They Now?' columns.
If it's not obvious, I don't like Harry Potter. But I'm not going into that here. What I am going to talk about is my dismay that of all the films made in the wake of Harry Potter that tried to tread similar ground (The Spiderwick Chronicles, The Dark Is Rising, etc.) there was one that was actually truly brilliant and far more deserving of huge box office numbers than the boy who lived.
That film was Lemony Snicket's A Series of Unfortunate Events. A delightfully dark and funny children's yarn that was quirky and off-key, with three great child performances (interestingly Liam Aiken who plays Klaus was originally cast as Harry Potter), an arch but pleasingly evil turn from Jim Carrey as the villainous Count Olaf and a diverse supporting cast that included Billy Connolly, Catherine O'Hara, Dustin Hoffman and Meryl Streep. It was beautifully photographed (by Spielberg regular Emmanuel Lubezki) and designed, using sets on sound-stages for every single scene brilliantly to really create a slightly askew fantasy world filled with Gothic and macabre design that puts all Tim Burton films since Sleepy Hollow to shame (they shared the same production designer). In short, though slightly episodic in its story-telling (combining the first three books by Daniel Handler aka. Lemony Snicket) into one, the film was a marvellous, old-fashioned, witty romp.
---
---
Unfortunately the film didn't do Harry Potter-like business, despite the books being consistently popular with both children and adults, it seemed the market just wasn't there. The film raked in $209million worldwide and reportedly cost $140million to make, and so, unlike Potter, no sequels was fast-tracked. As time has gone by my hopes to see a continuation to the genuinely mysterious and tragedy-filled tale of the Baudelaire orphans on screen has faded, and I'd nigh on dismissed the possibility of the final books being adapted.
Bizarrely it was Harry Potter that lead me to the news. I was reading the box office report for this weekend and the extraordinary ammount of money the new film took, and decided to find out how much the first film took overall; just to see how far Potter had smashed the law of diminishing returns. Whilst on the IMDB page I thought I'd have a quick scan through the trivia, as I am prone to do and saw that little tidbit on Liam Aiken; curious I clicked to find out what else he'd done and saw that there were rumours of the final Lemony Snicket books making it to the screen, but, worryingly with the words 'in a different medium'.
Fortunately my fears of CGI Snicket were quickly quashed by the words 'stop-motion', my favourite form of animation and a type of animation that could perfectly fit the words and style of Snicket. Indeed the look that Brad Silberling had created for the first film was heightened and hand-made, with the actors performing in nothing but sets, as if they themselves were the stop-motion puppets of some giant over-sized Henry Selick production. This same world would work perfectly on a miniature scale, and continuity could be maintained if they manage to net the same recurring actors for voice-work. It's a rare occasion that a potential sequel that would effectively require 'down-sizing' to animation seems to burst with potential, but, if handled with the same kind of off-beat care of films like Coraline or Wes Anderson's upcoming The Fantastic Mr. Fox could become a bigger hit than its live action predecessor.
Ironically, Lemony Snicket could become the film that lived?!
---
We hope you're enjoying BRWC. You should check us out on our social channels, subscribe to our newsletter, and tell your friends. BRWC is short for battleroyalewithcheese.
---
Trending on BRWC:
---
Cool Posts From Around the Web:

---